F256JR
Jump to navigation
Jump to search
The F256 Jr is a 65C02 based system which includes the following features:
Aside from its sound chip, it's very similar to the F256K.
Hardware Setup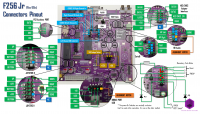 The PS2 mouse port may be wired to the keyboard port and then split out using a laptop PS2 splitter.
If your Jr. is booting to a blank screen with a dark purple border, be sure that the RAM/FLASH jumper is set to FLASH.
Kernels
There are three kernels for the Jr.
BASIC
The F256 Jr. ships with SuperBASIC: https://github.com/paulscottrobson/superbasic
DOS
Assemblers
C compiler
Tools